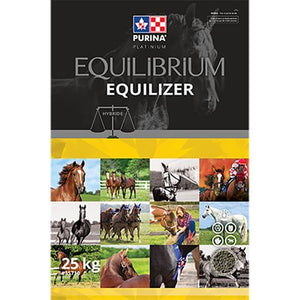 Purina Equilibrium Equalizer 25kg
Regular price
Sale price
$41.95
---
Equilibrium Equilizer is a low calorie, low sugar/starch tableted food, providing a significant amount of vitamins and minerals up to 5 times more concentrated in vitamins and minerals than most complete feeds.
This complete compensating supplement can also be served as a single concentrate. Equilibrium Equilizer is formulated specifically for resting and exercising adult horses, including ponies and miniature horses.
Features
Low in sugars and starch/Non-structural carbohydrates
Low glycemic index
Does not contain whole grain or molasses
Low in calories and highly fortified and balanced in vitamins, minerals and trace elements
Addition of balanced amino acids including lysine
Contains copper, zinc, manganese and organic selenium
Contains 6 B-complex vitamins (including biotin).

Ingredients

| | |
| --- | --- |
| Nutrients | Ingredients |
| Fiber | Soy hulls, Dehydrated alfalfa, Beet pulp |
| Protein/Amino Acids | Lysine-L |
| Starch | Ground wheat |
| Fats | soybean oil |
| Prebiotics | |
| Probiotics | |
| vitamins | Vitamin A, Vitamin D3, Vitamin E, Vitamin K, Riboflavin, Niacin, Thiamine, Vitamin B12, Biotin |
| Minerals | Salt (Sodium Chloride), Calcium Carbonate, Organic Copper, Organic Manganese, Organic Zinc, Calcium Iodate, Copper Sulphate, Ferrous Sulphate, Manganese Oxide, Zinc Oxide, Organic Selenium, Mono Dicalcium Phosphate, Defluorinated Phosphate, Cobalt Carbonate |
| Multiple Properties | wheat groats |
| Flavor/Binder | Anise Flavor, Binding Agent |

Warranty Analysis

| | |
| --- | --- |
| Crude Proteins | 12.00% |
| Crude Fats | 4.00% |
| Raw Fibers | 15.00% |
| Calcium | 3.00% |
| Phosphorus | 2.50% |
| Sodium | 1.50% |
| Magnesium | 0.30% |
| Sulfur | 0.25% |
| Potassium | 1.00% |
| Iodine | 4.30mg/kg |
| Iron | 1000mg/kg |
| Copper | 240mg/kg |
| Manganese | 600mg/kg |
| Cobalt | 2.50mg/kg |
| Zinc | 700mg/kg |
| Fluorine | 50mg/kg |
| Vitamin A | 39,000 IU/kg |
| Vitamin D3 | 7200 IU/kg |
| Vitamin E | 1000 IU/kg |
| Selenium | 1.80mg/kg |